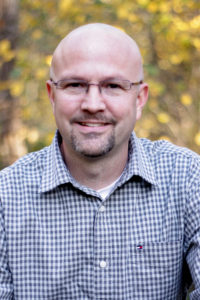 Travis Stewart, MATS, LPC, NCC
Director of Business Development & Marketing
Travis has worked in field of eating disorders since 2003 in both clinical and marketing roles, beginning as a therapist with adults and adolescents in residential care. He brings a unique blend of clinical expertise and communication skills to his role with McCallum Place. He is passionate about connecting people to resources and experiences that are transformative and healing.
An excellent communicator and teacher, Travis is a regular contributor to websites, podcasts, webinars and conferences on eating and body image issues and has spoken at schools such as Pepperdine University, Baylor University, Washington University, and graduate schools around the country. In 2008 he began Hungry for Hope, a faith-based conference on eating and body image issues that is now hosted by FINDINGbalance.
Travis graduated from the University of Nebraska in 1991 with a degree in advertising and immediately began working with the international ministry of The Navigators, mentoring students. After eight years, his desire to better understand how people change and heal led to obtaining a Master of Arts in Counseling (2001) and a Master of Arts in Theological Studies (2003) from Covenant Seminary in St. Louis, Missouri. Before taking on his current role as Director of Business Development & Marketing he worked as a primary therapist at McCallum Place.