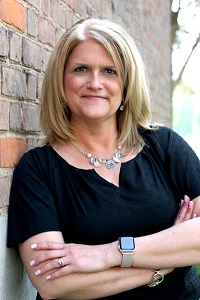 Rebekah Freese, MSW, LCSW, Ph.D.
Clinical Director
Rebekah received her Bachelors of Arts Degree from the University of Texas at Arlington, Masters of Science in Social Work at the University of Missouri and recently completed her doctorate in philosophy with the School of Social Work at the University of Missouri. Rebekah's dissertation research investigated suicide assessment outcomes and provider attitudes around service delivery with suicidal clients.
Dr. Freese has twenty-two years of experience working as a social worker in mental health services with adolescents, adults, and groups. She has worked as a consultant, helping to implement and sustain DBT programming in community mental health facilities and has provided clinical supervision to graduate students and professionals for over ten years.
In 2014, Rebekah and a colleague designed a free mental health clinic, Integrative Behavioral Health Clinic, for individuals who otherwise would not receive quality behavioral health care. From 2014 – 2018, she operated the IBHC and clinically trained over eighty students.
Rebekah's clinical interests are in eating disordered behaviors, suicidal and self-injury behaviors, trauma, anxiety, depression, and concerns related to self-esteem and self-worth. Her practice is informed by Dialectical Behavioral Therapy, Acceptance & Commitment Therapy, Cognitive Behavioral Therapy, Attachment, and Social learning theories.
Rebekah has dedicated her time to working with people whose lives are marginalized and are at-risk due to debilitating psychological problems and has a strong interest in conducting research to evaluate treatments for eating disorders and suicide prevention.
Rebekah enjoys reading, writing, biking and a wide variety of mindfulness practice. She loves to spend time with her family outdoors and is an avid movie goer.